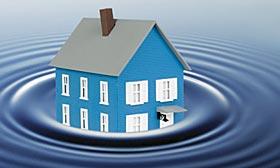 When homeowners reach a point where they're considering walking away from a mortgage on an underwater home that they no longer can afford, one professor suggests that maybe they should do just that.
The Wall Street Journal recently spoke with Brent White, a professor of law at the University of Arizona
, regarding his recent discussion paper (.pdf file) titled "Underwater and Not Walking Away: Shame, Fear and the Social Management of the Housing Crisis." To sum it up, from WSJ:
"The real mystery is not — as media coverage has suggested — why large numbers of homeowners are walking away, but why, given the percentage of underwater mortgages, more homeowners are not," the professor says.
In case you haven't already figured it out, underwater mortgages apply to homes that have lost so much value that borrowers are paying significantly more for their homes than the homes are worth. And with property values expected to rise an average of only 3.5% a year for the next decade, according to Bloomberg, some of those homeowners can't expect to reach home price and mortgage equity
for more than 10 years.
USA Today tells the story of Sharon Sakson, who after losing her job was burning through her savings to pay her $2,400 monthly mortgage – until she realized it simply wasn't worth it anymore.
"I'm walking away from my house," says Sakson, 57, who stopped making payments about six months ago on her home in Pennington, N.J. "The bank can have it."
In 2004, she bought the house for $320,000, then had it appraised at $390,000 and refinanced in 2006. Now, she told USA Today that she can't imagine it's even worth what she initially paid for it.
The consequences for walking away? You could lose 100 points from your credit score and you likely won't be able to buy another home for seven years.
But maybe that's worth it for some people, like the 588,000 people who walked away from their homes in 2008, which USA Today says is double the number in 2007.
And if you think strategic defaults will slow once the job market picks up, Mark Zandi, an economist at Moody's Economy.com, warns in the article that even then it may not make financial sense for some homeowners to stay. Which means the high foreclosure level could remain, even as the economy picks up.
Banks also fear the effect that a rising number of strategic defaults
will have on the housing market, but White, the Arizona professor, says maybe they're the ones who need to be taking some of the blame.
The bank and the borrower both screwed up in making a bad bet on real estate; now they could share the pain."It is time to put to rest the assumption that a borrower who exercises the option to default is somehow immoral or irresponsible," White writes. White even proposes that if lenders were prohibited from reporting mortgage defaults to credit bureaus, that could actually result in more loan modifications that actually work; then, fewer homeowners would walk away and everybody would be happy.
Of course, we can't say banks aren't doing their part. They recently met their goal to modify 500,000 loans through the Obama administration's program. But since homeowners who owe more than 25% above their home's value are nixed from the program, maybe they really aren't doing enough.
By the way, if you're thinking White might simply have written this paper for his own guilt-ridden purposes, The Journal notes that, no, he actually isn't planning on walking away from his Tucson, Ariz., home. Since White estimates that it's only about 3% to 5% underwater, that's "not enough that walking would make sense," he told the newspaper.
But what if the home was 30% or even 50% underwater? Would you walk away from a mortgage that cost you that much more than the house was worth? If not, what would prevent you from doing so?
that's all for now, until next time……………..
Blessings
Tifni &  Tonya
visit our website for 24/7 market information www.BoiseHomes4u.com. A quick thank you to our writters from MSN Real Estate, they provided the information posted above.
Tags: Add new tag, boise foreclosures, boise homes, boise idaho real estate, foreclosure idaho, home buyers, Homes for Sale, Homes for sale Idaho, idaho shorsales, interest rates, Kuna homes for sale, Meridian homes for sale, meridian real estate, Modify your loan, mortgage info, real estate agent boise